Yep, I'm still watching. I don't think we will have much of a blow from this one. It is late in the year and expected to destroy itself in the Bay of Campeche. However, Localized flooding is expected to be very heavy in those towns and cities along the Meso American coast.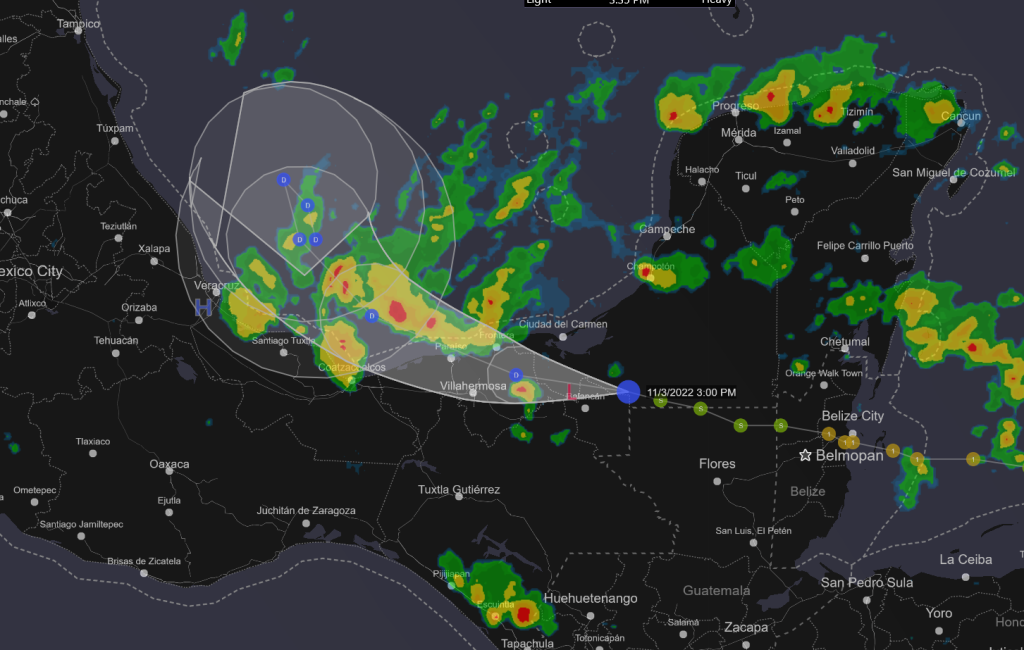 000
WTNT45 KNHC 032045
TCDAT5

Tropical Depression Lisa Discussion Number  17
NWS National Hurricane Center Miami FL       AL152022
400 PM CDT Thu Nov 03 2022

Deep convection associated with Lisa has been diminishing on 
infrared satellite images, although the system still has nearly a 
closed ring of precipitation on the Sabancuy, Mexico, radar.  
Assuming that at least some weakening has occurred during the day, 
the current intensity estimate is set at 25 kt, which is above the 
few available surface observations.

Center position estimates from visible satellite images and radar 
indicate that Lisa continues to move generally westward, or at 
about 280/10 kt.  During the next day or two, the cyclone should 
gradually turn toward the northwest and north while moving along 
the southwestern and western side of a mid-level high pressure area. 
Around 48 hours and beyond, the shallow vortex is likely to move 
slowly and erratically with the near-surface environmental flow.  
The official track forecast remains close to the dynamical model 
consensus.

Strong south-southwesterly upper-level winds are expected to 
prevail across most of the Gulf of Mexico over the next few days.  
Therefore, even though the center of Lisa is forecast to soon move 
over the waters of the Bay of Campeche, high vertical shear is 
likely to prevent re-strengthening of the system.  The consensus of 
the numerical intensity guidance calls for weakening through 48 
hours, and the official forecast shows Lisa becoming a remnant low 
in a couple of days.


Key Messages:

1. Isolated flash flooding is possible across portions of 
southeastern Mexico.


FORECAST POSITIONS AND MAX WINDS

INIT  03/2100Z 18.1N  92.2W   25 KT  30 MPH...INLAND
 12H  04/0600Z 18.5N  93.7W   25 KT  30 MPH...OVER WATER
 24H  04/1800Z 19.4N  95.0W   25 KT  30 MPH
 36H  05/0600Z 20.3N  95.4W   25 KT  30 MPH
 48H  05/1800Z 20.7N  95.3W   20 KT  25 MPH...POST-TROP/REMNT LOW
 60H  06/0600Z 20.4N  95.1W   20 KT  25 MPH...POST-TROP/REMNT LOW
 72H  06/1800Z 20.0N  95.0W   20 KT  25 MPH...POST-TROP/REMNT LOW
 96H  07/1800Z...DISSIPATED

$$
Forecaster Pasch

https://www.nhc.noaa.gov/text/refresh/MIATCDAT5+shtml/032045.shtml?