DISCUSSION AND OUTLOOK
----------------------
At 500 AM EDT (0900 UTC), the center of Tropical Storm Ian was
located near latitude 14.7 North, longitude 73.5 West. Ian is moving
toward the west near 14 mph (22 km/h).  A westward to 
west-northwestward motion is expected through early Sunday.  A
turn toward the northwest is forecast late Sunday, followed by a
north-northwestward turn by late Monday.  On the forecast track,
the center of Ian is forecast to move across the central Caribbean
Sea today, pass southwest of Jamaica on Sunday, and pass near or
over the Cayman Islands Sunday night and early Monday.  Ian will
then approach western Cuba on Monday.

Maximum sustained winds have increased to near 45 mph (75 km/h) 
with higher gusts. Additional strengthening is forecast during the 
next few days, and Ian is expected to become a hurricane late 
Sunday or Sunday night.

Tropical-storm-force winds extend outward up to 45 miles (75 km)
from the center.

The estimated minimum central pressure is 1003 mb (29.62 inches).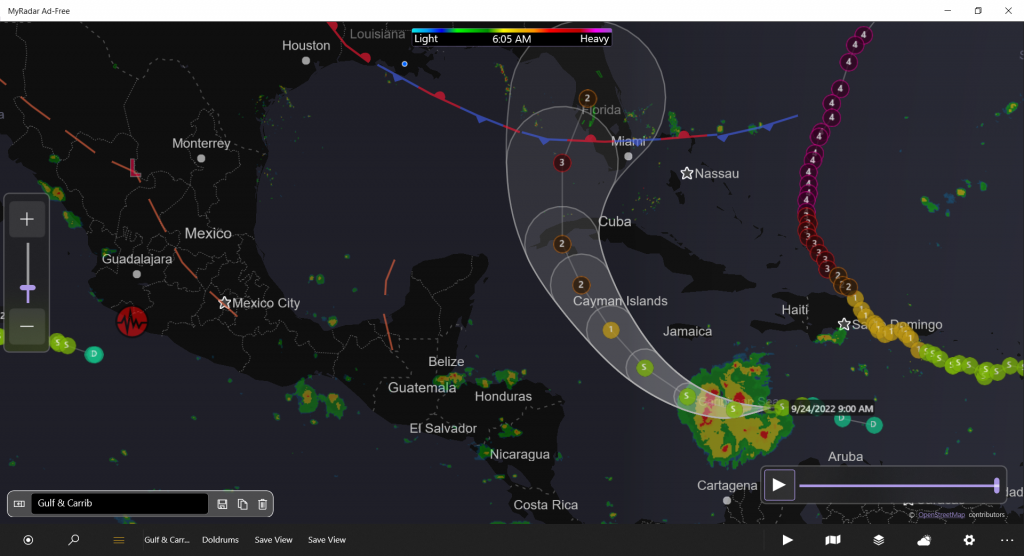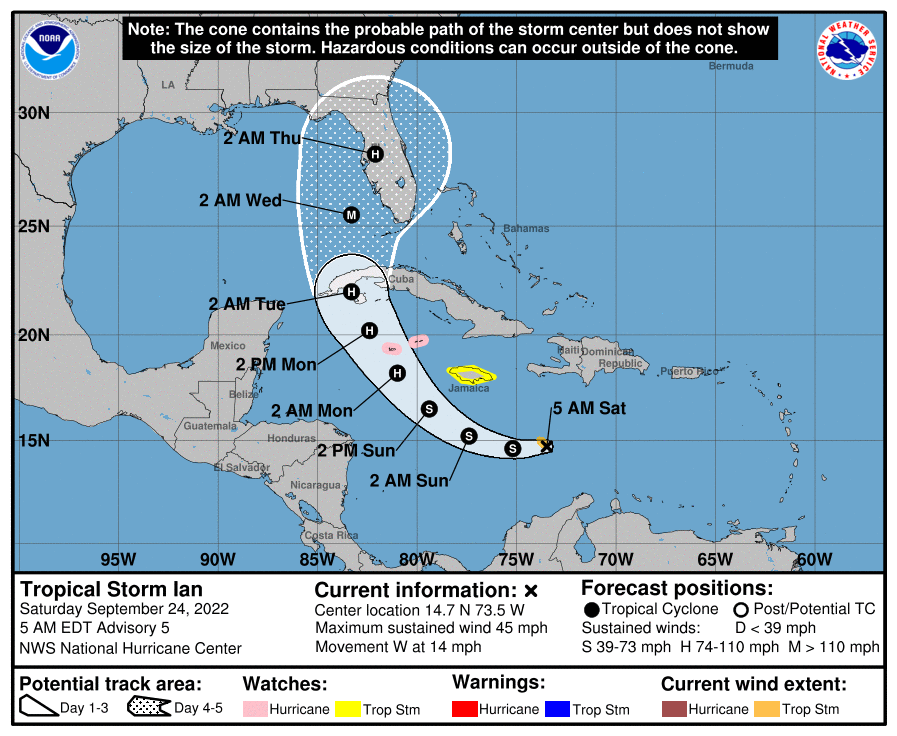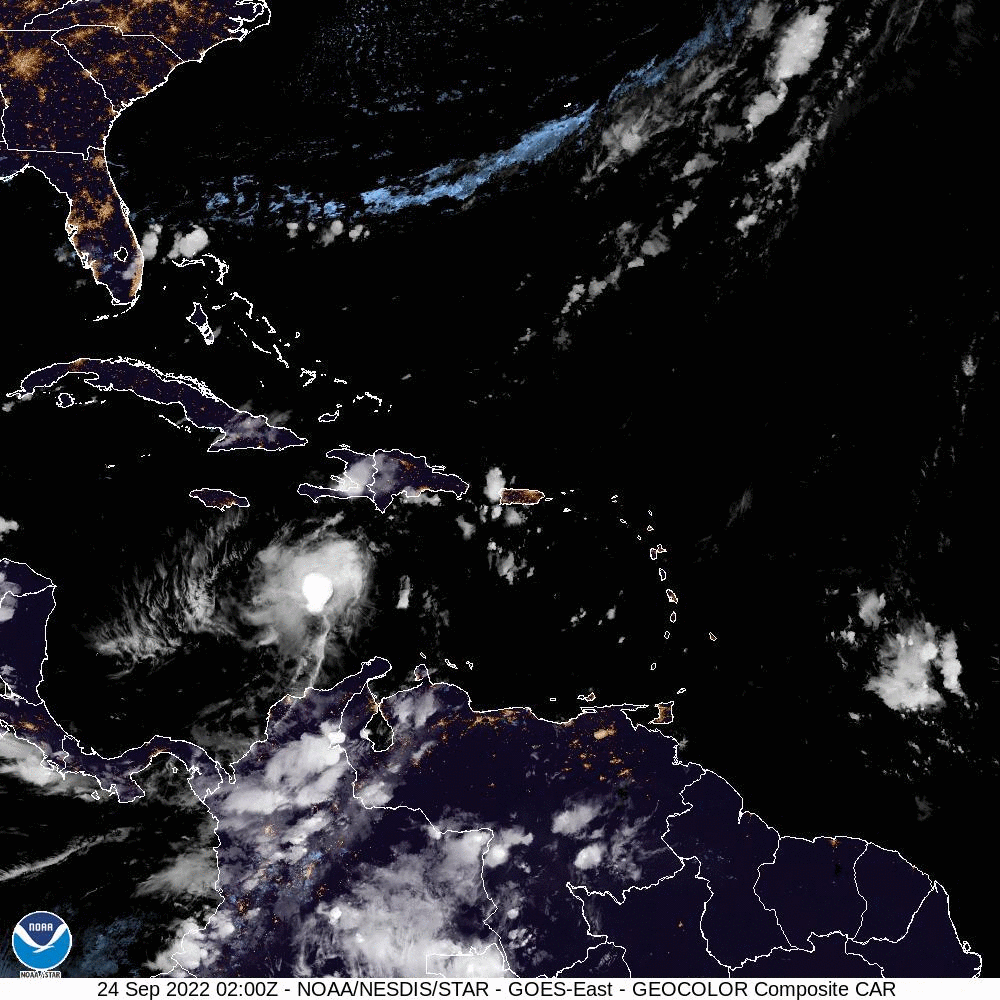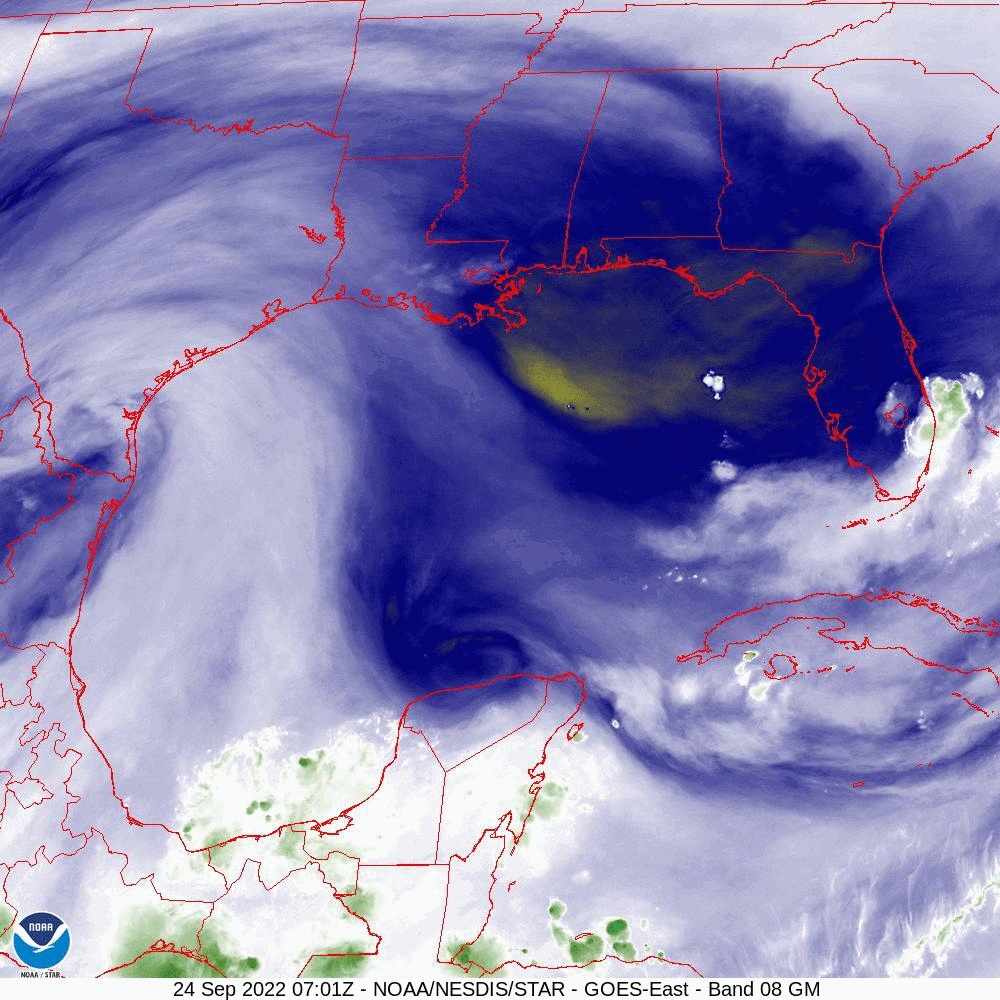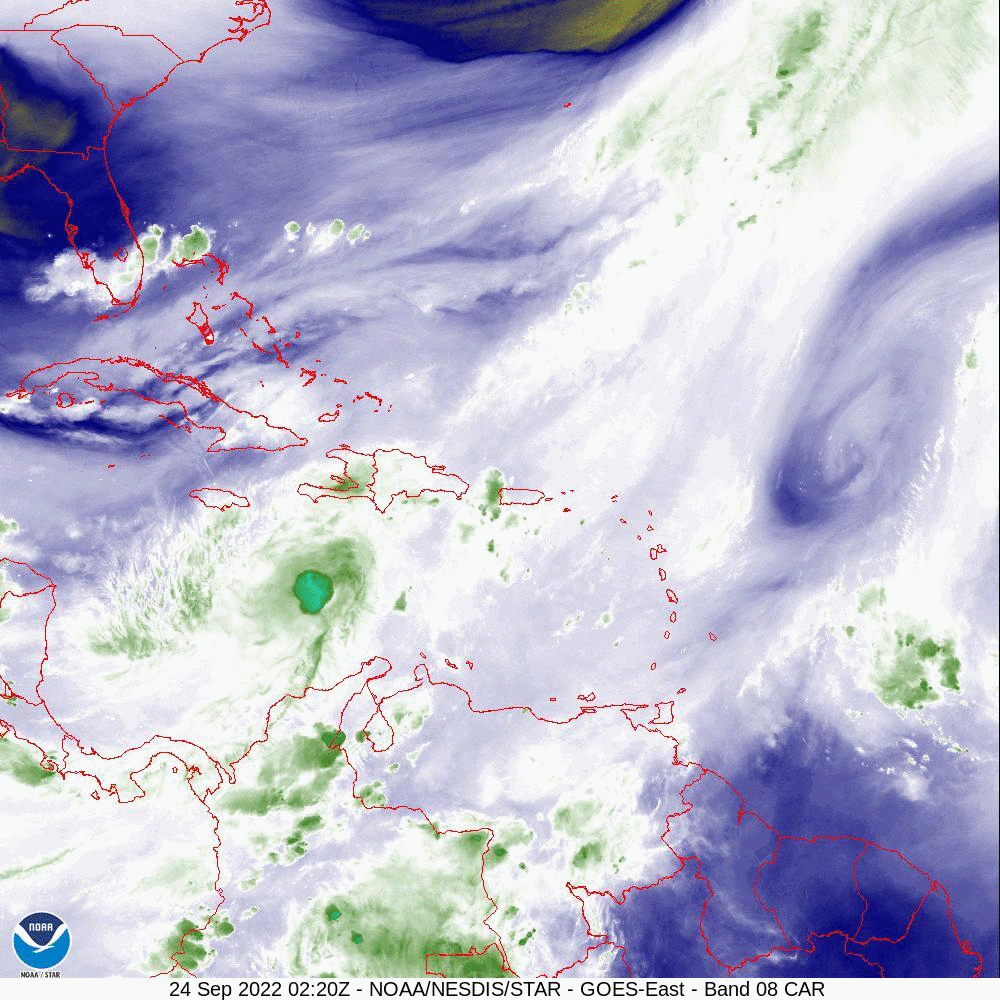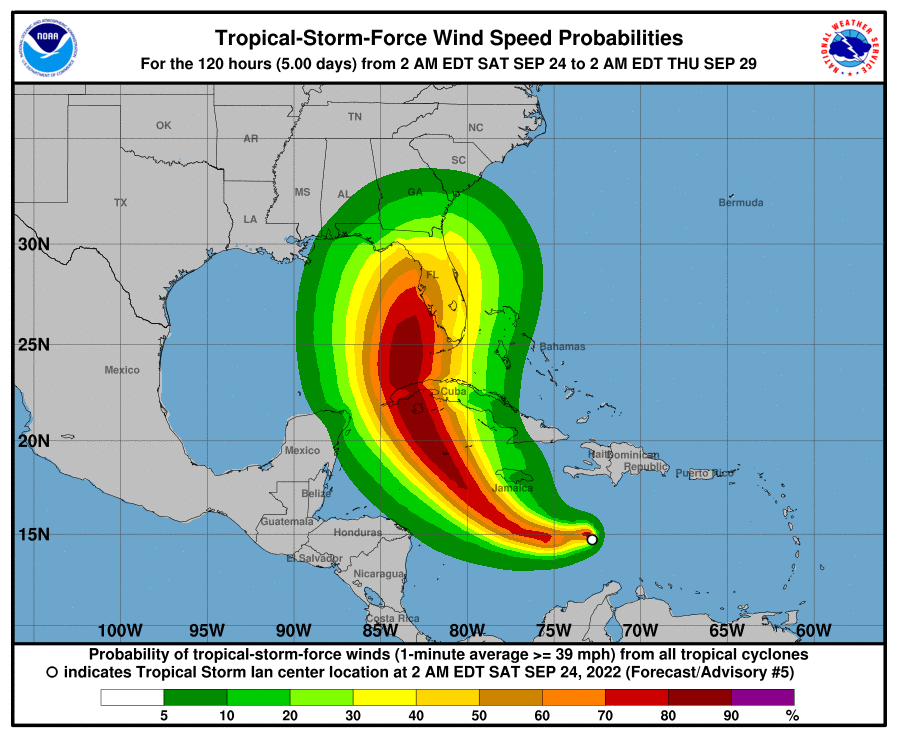 Tropical Storm Ian Forecast Discussion
000
WTNT44 KNHC 240853
TCDAT4

Tropical Storm Ian Discussion Number   5
NWS National Hurricane Center Miami FL       AL092022
500 AM EDT Sat Sep 24 2022

Ian is still being affected by some north-northeasterly, however 
short-wave infrared imagery suggests that the center is located 
beneath the eastern edge of the colder convective cloud tops.  
Deep convection over the western portion of the circulation has 
increased overnight but there is still little banding evident in 
conventional satellite imagery.  Subjective Dvorak satellite 
classifications from TAFB and SAB, and objective estimates from 
UW-CIMSS have changed little this cycle, but given that the center 
is more involved with the deep convection, the initial intensity 
has been increased to 40 kt, which is between the objective 
estimates and a TAFB Dvorak T-number of 3.0 or 45 kt.  A NOAA 
Hurricane Hunter aircraft is scheduled to investigate Ian this 
morning, and should provide additional data on Ian's structure 
and intensity.

Recent satellite fixes indicate that Ian has turned westward 
(270/12 kt) overnight to the south of a narrow ridge centered 
near Hispaniola.  By early Sunday, Ian is expected to reach the 
western portion of the ridge, and the storm should turn 
west-northwestward, and then northwestward over the northwestern 
Caribbean in 36 to 48 hours.  After that time, Ian is forecast to 
turn north-northwestward and northward around the western portion 
of the ridge.  This will bring Ian near or over Western Cuba and 
into the southeastern Gulf of Mexico.  Late in the period, the 
guidance indicates the storm will begin to recurve toward Florida.  
As mentioned before, the track models are in general agreement with 
this scenario, however there is a large amount of cross-track 
spread at 72 hours and beyond.  In fact, the east-west spread in 
the guidance at 96 hours is about 180 n mi, with the CTCI and ECMWF 
along the eastern side of the envelope, and the GFS, HWRF, and GFS 
ensemble mean along the western side.  The overall guidance 
envelope has shifted slightly westward this cycle, and the NHC 
track has been nudged in that direction and lies just east of the 
various consensus aids.  Given the spread in the guidance, and 
the still shifting dynamical models, additional adjustments to the 
track forecast may be needed in subsequent advisories.  Users are 
reminded that the long-term average NHC 4- and 5-day track errors 
are around 150 and 200 n mi, respectively. 

The shear that has been plaguing Ian is forecast to continue to 
decrease over the next day or two while the cyclone moves over the 
warm waters of the central and northwestern Caribbean Sea. This 
should allow for strengthening, with steady to rapid 
intensification (RI) quite possible once an inner core becomes 
established. Although the updated NHC forecast is just shy of 
forecasting RI (30 kt or greater increase over 24 h) during any 24-h 
period over the next few days, it calls a 45-kt increase in wind 
speed between 24 and 72 hours, and Ian is likely to be near major 
hurricane intensity when it approaches western Cuba.  Since Ian is 
not expected to remain over Cuba long, little weakening is expected 
due to that land interaction, and the forecast again shows Ian as a 
major hurricane over the eastern Gulf when it is approaching the 
west coast of Florida.


Key Messages:

1.  Ian is expected to produce heavy rainfall and instances of
flash flooding and possible mudslides in areas of higher terrain,
particularly over Jamaica and Cuba.

2.  Hurricane conditions are possible in the Cayman Islands by
early Monday, with tropical storm conditions possible by late
Sunday.  Tropical storm conditions are possible in Jamaica on
Sunday.

3.  Early next week, Ian is forecast to move near or over western
Cuba as a strengthening hurricane and then approach the Florida
peninsula at or near major hurricane strength, with the potential
for significant impacts from storm surge, hurricane-force winds,
and heavy rainfall.  While it is too soon to determine the
exact magnitude and location of these impacts, residents in Cuba,
the Florida Keys, and the Florida peninsula should ensure they have
their hurricane plan in place and closely monitor forecast updates
through the weekend.


FORECAST POSITIONS AND MAX WINDS

INIT  24/0900Z 14.7N  73.5W   40 KT  45 MPH
 12H  24/1800Z 14.6N  75.2W   45 KT  50 MPH
 24H  25/0600Z 15.2N  77.4W   50 KT  60 MPH
 36H  25/1800Z 16.5N  79.4W   60 KT  70 MPH
 48H  26/0600Z 18.2N  81.0W   70 KT  80 MPH
 60H  26/1800Z 20.2N  82.4W   85 KT 100 MPH
 72H  27/0600Z 22.0N  83.3W   95 KT 110 MPH
 96H  28/0600Z 25.5N  83.3W  100 KT 115 MPH
120H  29/0600Z 28.2N  82.1W   85 KT 100 MPH...INLAND

$$
Forecaster Brown